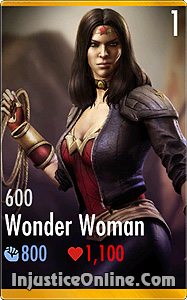 Character Info
Name: Princess Diana of Themyscira
Alias: Wonder Woman
Full Card Name: 600 Wonder Woman
Class: Gold
Group: Wonder Woman
Start Damage: 800
Start Health: 1100
How to unlock: Singleplayer Challenge | Femme Fatale Pack
Bio: The 600 Wonder Woman is inspired by the design of Wonder Woman in Wonder Woman Issue #600. The issue was release in August 2010 and was game changing for the character. It introduced Wonder Woman to an alternate timeline created by the Gods in which Paradise Island had been destroyed and the Amazons scattered around the world.
In this timeline, Diana is an orphan raised in New York. She is learning to cope with her powers. The entire world has forgotten Wonder Woman's existence and the main story of this run was of Diana trying to restore reality even though she does not properly remember it herself.

Passive Ability
Amazonian Fury: All FEMALE characters on Wonder Woman's team receive +30% DAMAGE and POWER generation.
Special Abilities
Shield Toss: Wonder Woman uses her shield as a projectile taking her opponent unawares.
Aegis Wrath: Wonder Woman combines shield and sword strikes to crush her opponent. BLEEDING damage over 8 seconds.
Justice Javelin: Wonder Woman calls in allies to help annihilate her opposition. UNBLOCKABLE.
Support Cards
Daughter of Zeus: +10% Health for all Wonder Woman characters.
Strength of Demeter: +10% Damage for all Wonder Woman characters.
Amazonian Origin: +10% Energy Regeneration for all Wonder Woman characters.
Character Gear Card
Name: Sword and Shield/Amazonian Sword and Shield
For all characters: BLOCKING stops X% more damage
For all Wonder Woman characters: X% chance to REFLECT Special 2 when blocking
Evolved: X% chance to STUN on Special 1
Strategies
600 Wonder Woman is one of the strongest characters in the game. She is only weakened by the limitations of her passive abilities which only work on female team members. She can however be combined with the other two female characters from the Femme Fatale Pack (Animated Harley Quinn and Batgirl) to form a really deadly team.
Gallery