E3 2016: Geoff Keighley Interviews Ed Boon About The Injustice 2 Gameplay And The Characters Customization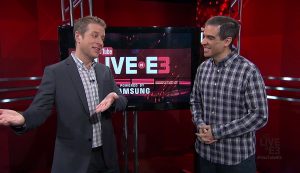 E3 2016 is only getting started and one of the very first interview guests of Geoff Keighley, who is reporting live from the Expo is Netehrrealm Studio's creative director Ed Boon, who is there to give us more information about the recently announced Injustice 2 and to talk mostly about the character customization system of the game. Take a look at the interview:
Part of the interview is a new gameplay footage from the game that features several different customizations, fights with Batman, Superman, Supergirl, Gorilla Grodd and Atrocitus.
Ed Boon reveals that when you start the game you will have a base version of each character and how that character develops over time will only depend on you.
This years E3 is only getting started and we are going to be here for you during the entire expo, so stay close to InjusticeOnline.Com for the latest Injustice 2 news and updates.