Injustice Year 4 Chapter 17: Masters Of The Sea
Injustice Year 4 Chapter 17 has arrived. As Harley Quinn, Shazam and Hippolyta are taken to Tartarus, Themyscira is attacked by Poseidon. The God of the Sea has joined Superman's side in the conflict between the Man of Steal and the Gods of Olympus: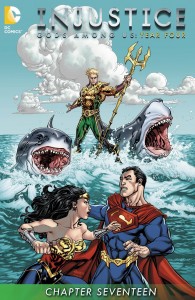 Wonder Woman is terrified to find Clark in the middle of the attack against her island, and for the first time truly stands against the Kryptonian.
Desperate to find a solution and stop the destruction of Themyscira, Batman calls upon an old ally. But can Arthur Curry (a.k.a Aquaman) and Mera stand again the God of the Sea? Find out on the pages of Injustice Year 4.