Suicide Squad Harley Quinn Challenge For Injustice Mobile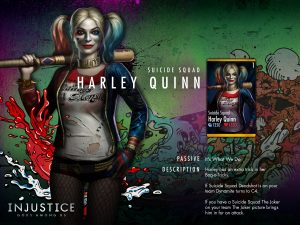 The next Suicide Squad Single Player Injustice Mobile challenge has arrived. In it Netherrealm Studios and Warner Bros offer you to compete for the most memorable character from the Suicide Squad movie, Suicide Squad Harley Quinn:
This version of Harley Quinn is based on Margot Robbie's portrayal of the character in Warner Bros' 2016 Suicide Squad movie:
Suicide Squad Harley Quinn is the second Suicide Squad character from the Injustice Mobile 2.11 update to arrive as a single player challenge.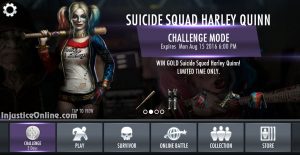 Dr. Harleen Quinzel was once a promising psychiatrist but following her descent into madness she became the formidable foe to good ol' bats-y that you know now as Harley Quinn.
Suicide Squad Harley Quinn has some impressive basic stats and is especially terrifying when teamed with other members of The Suicide Squad. Take a look:
Attack: 1250
Health: 1450
Passive: It's What We Do
Description: Harley has an extra trick in her Bag-o-Tricks.
If Suicide Squad Deadshot is on your team Dynamite turns to C4.
If you have a Suicide Squad The Joker on your team The Joker picture brings him in for an attack.
Just like the Deadshot challenge Suicide Squad Harley Quinn's challenge is unique in several different ways. First, its first difficulty level is extremely accessible even for completely new players as it has no additional requirements, includes only 45 battles instead of the usual 63, doesn't require challenge credits (this is also relevant for the other difficulty levels) and includes fairly easy opponents.
In addition to all these, the challenge rewards have been updated and now you will receive a Silver Booster Pack, a Gear Locker and a Gold Booster Pack.
The challenge has so far been available on the following dates:
November 10th, 2016 – November 24th, 2016

August 25th, 201ü – September 6th, 2016

August 11th, 2016 – August 14th, 2016