15 Minutes Of Injustice 2 Gameplay From E3 2016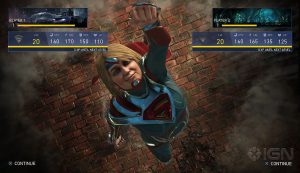 IGN has something really special for all the gameplay hungry Injustice 2 fans out there. They just published their interview with Netherrealm Studios' creatie director Ed Boon, which includes 15 whole minutes of Injustice 2 gameplay and a lot of interesting information about the gear system in the game.
The video features Supergirl VS Atrocitus, Gorilla Grodd VS Superman, Aquaman VS Batman and Supergirl VS Batman.
During the fights you will see a lot of special moves, combos, super moves, stage transitions and intros.
Take a look:
Here is the interview with the commentaries during the gameplay:
And here is just the gameplay video without the commentaries. Enjoy:
The videos also show how gear character customization currently works in the game. You will see Batman and Supergirl being equipped with gear and selected for battle. As you can see the gear can not only affect your characters stats but also significantly alter their look in the game.
Thanks to InjusticeOnline Forum member Darkness-Lord for the heads-up on this story!
Did you like this post? Then share it with your friends!
What do you think about the direction Injustice 2 is taking, let us know in the comments below.