Arkham Killer Croc Challenge For Injustice Mobile
The next Single Player Injustice Mobile challenge is here. You get the chance to obtain the Arkham Killer Croc gold characters: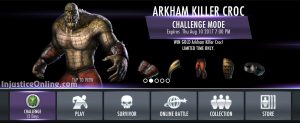 Arkham Killer Croc is one of the mobile exclusive Injustice: Gods Among Us characters, meaning he was not playable in the console version of the game. In fact he only appeared in a stage transition in that game. Arkham Killer Croc joins characters such as Darkseid, Static, Jessica Cruz, Arkham Knight and Deadshot who are also mobile exclusive and did not appear in the console version of Injustice: Gods Among Us. The character was added in Injustice Mobile version 2.16.
Arkham Killer Croc has great basic stats and a dangerous passive ability. When combined with other Arkham characters, he becomes even more powerful and useful. This makes him a very powerful ally and a dangerous foe that can fit each team, especially one with other Arkham characters in it. Take a look:
Attack: 1550
Health: 1659
Passive: Apex Predator
Description: Killer Croc gains armor when he Tags-In or does a Special Attack. Arkham Characters Special Attack use also give Killer Croc armor.
Killer Croc also appeared in the Injustice: Gods Among Us comics.
To beat this challenge you must have Harley Quinn, Flash and Sinestro on your team. There are Bronze/Silver versions of all these characters so this challenge shouldn't be a problem even for newer Injustice Mobile players.
The challenge has so far been available on the following dates:
January 11th, 2018 – January 18th, 2018
July 27th, 2017 – August 10th, 2017