Arkham Knight Harley Quinn Challenge For Injustice Mobile Has Arrived
The next Single Player Injustice Mobile challenge has started. You now have the chance to win a gold Arkham Knight Harley Quinn card: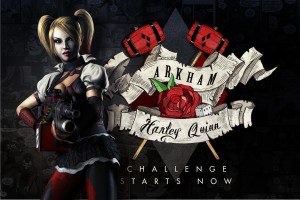 Character Summary
Arkham Knight Harley Quinn is inspired by the version of the character from the game Batman: Arkham Knight. She is the fourth new character that was added in Injustice Mobile v2.6. Take a look at her start:
Attack: 1100
Health: 100
Passive: This One's For Mr. J!
Description:
When the enemy tags-in, Harley may perform a surprise attack (if she is tagged out).

If The Joker's knocked out on Harley's team, she gains full POWER.
Challenge Description
Requirements
To beat this challenge you must have Sinestro, Black Adam and Batman on your team. There are Bronze/Silver versions of all these characters so this requirement shouldn't be a problem even for newer Injustice Mobile players.
Schedule
The challenge has so far been available on the following dates:
February 15th, 2018 – February 22nd, 2018
December 28th, 2015 – January 14th, 2016
Arkham Knight Harley Quinn is the fourth character from the Injustice Mobile v2.6 update. If you want to know more about this update take a look at these news: