Darkseid Is Coming – New Injustice Mobile Challenge
The next Injustice Mobile single player challenge has arrived and if you complete it, you will gain access to one of the mobile exclusive Injustice characters, Darkseid.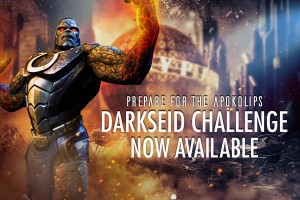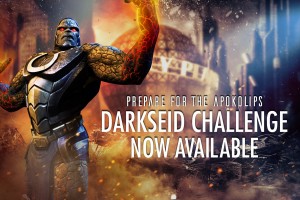 Darkseid is one of the most powerful gold characters and possesses the incredible ability to increase the life and power of bronze characters by 300%, which can be an incredible opportunity for all players who do not yet have a lot of gold characters. Take a look at his stats:
Attack: 1050
Health: 1200
Passive: Empower Minions
Description: All BRONZE characters on Darkseid's team gain +300% HEALTH and DAMAGE.
Darkseid can also be a great asset in an online battle when combined with maxed out bronze Nightwing and Flash.
To beat this challenge you must have Cyborg, Catwoman and Black Adam on your team. There are Bronze/Silver versions of all of them so this condition should not be a problem even for newer Injustice Mobile players.
The challenge has so far been available on the following dates:
February 8th, 2018 – February 15th, 2018
July 20th, 2017 – July 27th, 2017
June 15th, 2017 – June 22nd, 2017
February 9th, 2017 – February 16th, 2017
September 17th, 2015 – September 23rd, 2015