Batman VS Bane In Injustice Year 5 Chapter 6
Bane challenges Batman to a fight at the Wayne manor. Meanwhile Batman devises a plan to use this opportunity and rescue Catwoman.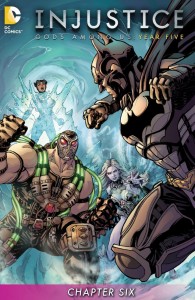 But is Batman strong and smart enough to defeat Bane once and for all.
While Bane and Batman are locked in a fearsome battle Batgirl discovers Catwoman's location and starts the rescue mission. But can Batman distract their enemies long enough for Batgirl to make her move or will the sudden arrival of the Man of Steel put an end to the whole conflict?
Find the answer in Injustice Year 5 Chapter 6. Available now.