Blackest Night Batman Challenge For Injustice Mobile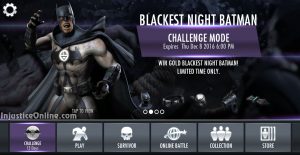 The next Single Player Injustice Mobile challenge is here. You get the chance to obtain Blackest Night Batman gold character.
The character is based on the Blackest Night Batman character from the comics.
Basic stats for Blackest Night Batman:
Attack: 1250
Health: 1000
Passive: Surging Darkness
Description: Batman deals more damage as his opponent's health depletes. Blackest Night characters receive an additional 10% Unblockable chance for each Blackest Night member on their team.
To beat this challenge you must have Catwoman, Nightwing and The Joker on your team. There are Bronze/Silver versions of all three characters, so this challenge shouldn't be a problem even for newer Injustice Mobile players.
The challenge has so far been available on the following dates:
October 18th, 2018 – October 25th, 2018
July 13th, 2017 – July 20th 2017
May 18th, 2017 – May, 25th, 2017
November 24th, 2016 – December 8th, 2016