Suicide Squad Companion Cards Available In Survivor Mode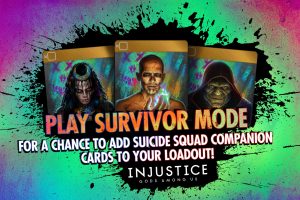 The Suicide Squad Companion Gear Cards were added in Injustice Mobile with the legendary Suicide Squad Update.
The companion cards include a Diablo, an Enchantress and a Killer Croc Companion Card with the following properties:
Diablo Companion Card
After Tag-In, applies shield that returns 40% DOT if attacked by Special (Shield lasts longer with each Suicide Squad teammate)
15% Chance to apply DOT on Enemy when CRIT received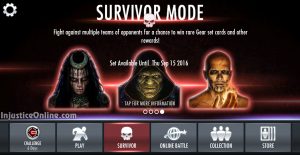 Enchantress Companion Card
After any successful Special Attack skulls fly at the enemy dealing 1-10% additional DAMAGE each skull for a total of 3 skulls.
[EVOLVED] Each skull does 2-20% LIFEDRAIN.
Killer Croc Companion Card
10- 30% Damage reduction from all Specials
10- 30% DOT damage reduction for Suicide Squad teammate
[EVOLVED]: 10 -20% Damage reduction from basic attacks
The challenge has so far been available on the following dates:
October 24th 2018 – November 7th, 2018
August 2nd 2017 – August 16th, 2017
June 7th, 2017 – June 21st, 2017
November 9th, 2016 – November 23rd, 2016
August 3rd, 2016 – September 15th, 2016