Blackest Night Doomsday Multiplayer Challenge For Injustice Mobile
Blackest Night Doomsday is the first new Injustice Mobile character to be made available through the Multiplayer challenges after Metahuman Flash and Reverse Flash were introduced in version 2.6.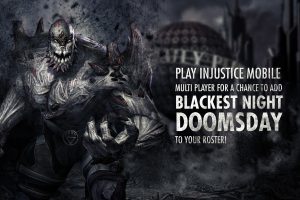 Blackest Night Doomsday joined Injustice Mobile in version 2.9 and belongs to the Blackest Night character group together with Blackest Night Batman and Blackest Night Martian Manhunter.
Blackest Night Doomsday's passive ability is called Dark Momentum and allows him to increase the damage caused by his Special Attack up to 2X while he is tagged in.
To obtain Blackest Night Doomsday gold character you will have to rank among the top 5% players during a multiplayer season in which he is the reward.
As each other multi player challenge you can expect Blackest Night Doomsday to show up every once in while so if you have missed it so far you will definitely get another chance.
So far the challenge has been available on the following dates:
September 22nd, 2021 – September 29th, 2021
January 10th, 2018 – January 17th, 2018
May 31st, 2017 – June 7th, 2017
February 22nd, 2017 – March 1st, 2017
January 18, 2017 – January 25th, 2017
October 19th, 2016 – October 26th, 2016
June 29th, 2016 – July 6th, 2016
May 25th, 2016 – June 1st 2016