Dark Supergirl Arena Season For Injustice 2 Mobile
The next Arena Season for Injustice 2 Mobile is here. It gives you the chance to compete for gold Dark Supergirl character shards.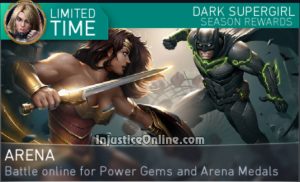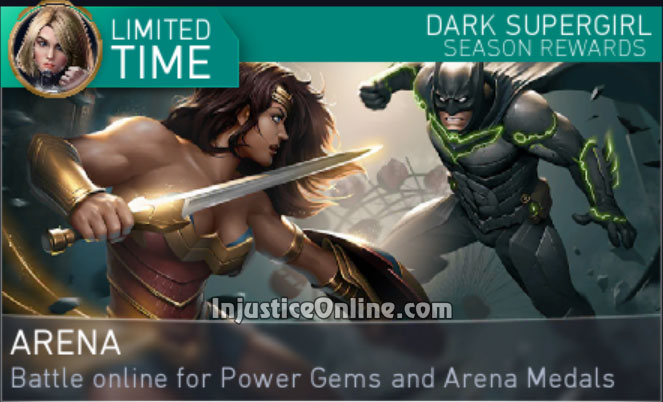 Character Summary
Combining flight, invulnerability and strength, Kara Zor-El unleashes a powerful unavoidable fist slam on tag-in. The slam may interrupt opponent abilities, thus granting her boosts to damage and critical chance.
Dark Supergirl is a three star gold might class character and has the following basic stats:
Threat: ???
Health: 990
Damage: 165
Passive: Kryptonian Slam
Description: As she tags in, Supergirl lands an Unblockable attack that deals 33 damage and can interrupt abilities. If she interrupts the opponent during an Ability, she gains 100% damage and 100% crit chance for 7 seconds.
To unlock the character you will have to collect 160 shards.
To obtain Dark Supergirl character shards you will have to reach at least Challenger II rank. Here are the shards per rank:
Challenger II: 5 shards
Challenger III: 10 shards
Challenger IV: 15 shards
Competitor I: 25 shards
Competitor II: 50 shards
Competitor III: 75 shards
Competitor IV: 100 shards
Elite I, II and III: 160 shards
Elite IV, Untouchable, Invincible and Legendary: 360 shards
Tips
Beat more powerful opponents to get more arena points
As with every other reward and challenge you can expect the Dark Supergirl season to show up every once in while so if you have missed it so far you will definitely get another chance.
So far the season has been available on the following dates:
September 21st, 2021 – September 24th, 2021
April 3rd, 2018 – April 7th, 2018
February 23rd, 2018 – February 26th, 2018
January 9th, 2018 – January 12th, 2018
November 14th, 2017 – November 17th, 2017
September 5th, 2017 – September 12th, 2017