Suicide Squad The Joker Challenge For Injustice Mobile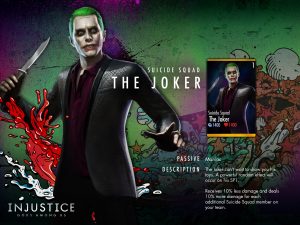 A next Single Player Injustice Mobile challenge has arrived and it gives you the chance to obtain Suicide Squad The Joker gold character. This is the fourth and final Suicide Squad character who was included in version 2.11 of the game.
Suicide Squad The Joker is one of the two Joker characters introduced with the update. He is based on Jared Leto's portrayal of the character in Warner Bros' 2016 Suicide Squad movie: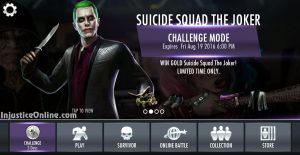 The Crown Prince of Crime makes a grand entrance in this Suicide Squad themed update! Unpredictable and maniacal, The Joker is a devastating addition to any team.
Attack: 1350
Health: 1350
Passive: Maniac
Description: The Joker can't wait to show you his toys. A powerful random effect will occur on his SP1.
Receives 10% less damage and deals 10% more damage for each additional Suicide Squad member on your team.
Just like the Deadshot challenge Suicide Squad The Joker's challenge is unique in several different ways. First, its first difficulty level is extremely accessible even for completely new players as it has no additional requirements, includes only 45 battles instead of the usual 63, doesn't require challenge credits (this is also relevant for the other difficulty levels) and includes fairly easy opponents.
In addition to all these, the challenge rewards have been updated and now you will receive a Silver Booster Pack, a Gear Locker and a Gold Booster Pack.
The challenge has so far been available on the following dates:
September 21st, 2021 – September 30th, 2021
September 6th, 2016 – September 15th, 2016

August 15th, 2016 – August 19th, 2016