Soulstealer Doctor Fate Challenge For Injustice 2 Mobile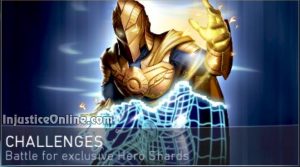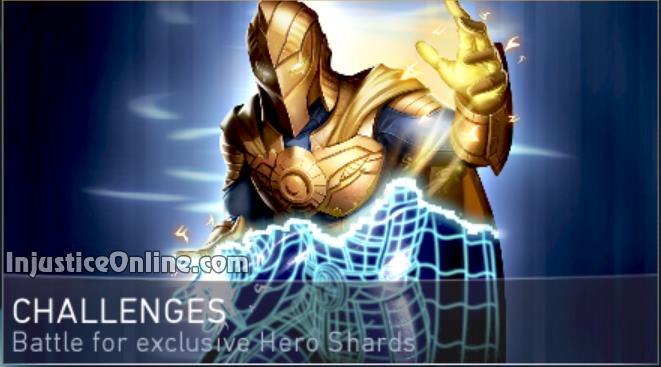 The next Single Player Injustice 2 Mobile challenge is here. You get the chance to fight for gold Soulstealer Doctor Fate character shards and gear.
Character Summary
An agent of Order, Kent Nelson is able to swap health with his opponent upon performing his Supermove. Fate also allows his teammates to heal from his Break of Life Ability.
Soulstealer Doctor Fate is a three star gold arcane class character and has the following basic stats:
Threat: 1829
Health: 858
Damage: 178
Passive: Reversal of Fate
Description: Upon activating Supermove, Doctor Fate has 80% Chance to swap health with his opponent.
To unlock the character you will have to collect 160 shards.
Challenge Description
Requirements
To beat this challenge you must have at one, two or three agility class heroes on your team, depending on the level you are playing. This shouldn't be a problem even for newer players, as there are several silver tech characters: The Joker, Harley Quinn, Robin, Catwoman and Black Canary. This requirement might however limit the thread level of the team you will be putting together for this challenge.
Opponents
Brawler Inmate
Slasher Inmate
Soulstealer Doctor Fate
Team Thread
Level 1: 6 814
Level 2: 23 472
Level 3: 41 975
Modifiers
Regeneration: Doctor Fate regenerates health over time.
Poison: Player DOT attacks deal +100% damage
Tips
Counter Doctor Fate's Health Regeneration with boosted DOT attacks!
Strategies
Don't waste your super meter on the weaker characters. Build up to a super and attack Soulstealer Doctor Fate with it.
If you have strong agility characters with DOT attacks, use only them against Soulstealer Doctor Fate. Their boosted DOT attacks are your best chance again him on level 2 and 3.
Be well prepared for this challenge as it is currently one of the hardest, keep that in mind when you choose what characters to level up.
Schedule
The challenge has so far been available on the following dates:
September 21st, 2021 – September 24st, 2021
March 24th, 2019 – March 29th, 2019
January 30th, 2018 – February 2nd, 2018
December 29th, 2017 – January 1st, 2018
October 24th, 2017 – October 27th, 2017
August 15th, 2017 – August 18th, 2017
July 14th, 2017 – July 17th, 2017
June 27th, 2017 – June 30th, 2017
May 26th, 2017 – May 29th, 2017