Raiden Challenge For Injustice 2 Mobile
The next Single Player Injustice 2 Mobile challenge is here. You get the chance to fight for gold Raiden character shards and gear. Raiden is the second Mortal Kombat guest character in Injustice 2, alongside Sub-Zero: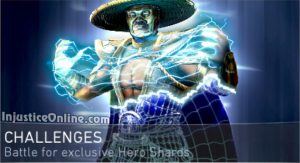 Character Summary
Raiden is a two star gold arcane class character.
At battle start, The God of Thunder and protector of Earthrealm grants his team additional power per Arcane class member. In addition, Raiden's Elder Shock ability deals variable amount of damage to tagged out opponents while his Divine Blast ability power drains.
Basic stats:
Threat: 1379
Health: 730
Damage: 119
Passive: Chain Lightning
Description: Elder Shock ability jumps to tagged out opponents. 1st jump deals 53 damage, the 2nd jump 107.
+0.8 starting power per ARCANE team member.
To unlock the character you will have to collect 160 shards.
Challenge Description
Requirements
To beat this challenge you must have one, two or three tech class heroes on your team, depending on the level you are playing. This shouldn't be a problem even for newer players, as there are several silver tech characters: Batman, Deadshot and Green Arrow. This requirement might however limit the thread level of the team you will be putting together for this challenge.
Opponents
Level 1: Warrior Gorilla, Advisor Gorilla, Raiden
Level 2: Raiden, Catwoman, Doctor Fate
Level 3: Raiden, Captain Cold, Sub-Zero
Team Thread
Level 1: 6 621
Level 2: 31 424
Level 3: 54 384
Modifiers
Tips
Be careful for Raiden grants his team additional power per Arcane member.
Strategies
Don't waste your super meter on the weaker characters. Build up to a super and attack Raiden with it.
Schedule
The challenge has so far been available on the following dates:
September 14th, 2019 – September 17th, 2021
March 16th, 2018 – March 19th, 2018
February 13th, 2018 – February 16th, 2018
January 12th, 2018 – January 15th, 2018
November 7th, 2017 – November 9th, 2017