Batman Day Celebration In Injustice 2 Mobile (2021)
This years' Batman Day Celebration is slowly approaching (September 18th, 2021). Every year there are a lot of sales and special offers indifferent Batman related games happening. All of them around this date and all in celebration of the caped crusader
Today, Netherrealm Studios announced a whole week of special offers, events and gifts in Injustice 2 Mobile. All of this is starting today (September 13th, 2021), so you might want to hurry up and get all the goodies. Have a look:
Greetings Heroes,

Batman Day is approaching and we're ready to celebrate! Batman is one of the most beloved superheroes of all time and has been fighting crime for over 80 years. From his Batarang to Grapple Gun, Bat-Stunner & more, Batman has some of the coolest gadgets around. Celebrate Batman in Injustice 2 Mobile all week long!

BATMAN DAY FREE GIFTS (9/13 – 9/19)

What better way to kick off our Batman Day celebrations than FREE GIFTS! Get a Batman Day Celebration Gift every 24 hours starting now through September 18th. The gift includes a chance to get Hero shards for Justice League Batman, Batman Ninja Batman, Knightmare Batman, and more! Available now in the Store.
FREE BATMAN DAY PROFILE PICTURE (9/13 – 9/19)

Update your Injustice 2 Profile Picture to Batman Day logo to show your love for this timeless Hero. Claim now at the bottom of this message. Available for a limited time only.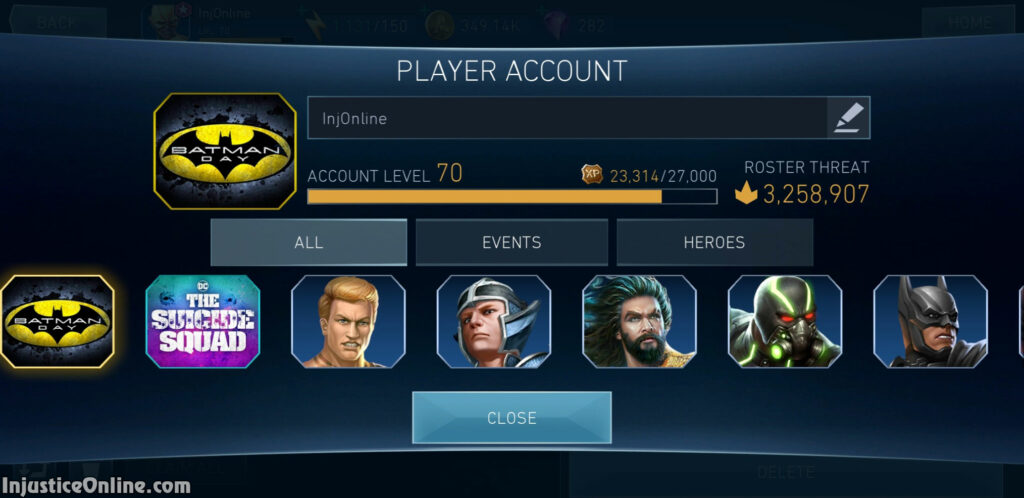 BATMAN DAY EVENT (9/14 – 9/21)

Starting on September 14th, a limited time only Classic Batman Invasion will begin for TWO Arena Seasons. Classic Batman will invade his lifelong enemy in the Arena, Batman Ninja Lord Joker, followed by another one of his rivals, Batman Ninja Catwoman. Head to the Arena for a chance to be invaded by Classic Batman. If you can beat him, you'll earn his Hero shards in addition to your regular Arena Rewards. The invasion will end on September 21st.

BATMAN DAY CHEST SALES (9/17- 9/20)

Don't miss 25% off popular Hero Chests featuring Batman like the Classic Chest, Nemesis Trio Chest, Arkham Knight Chest, and more! Get ready to power up your Batman Collection!
Are you excited about the Batman Celebration Day this year. And we do not focus on the Injustice 2 Mobile offers only. What other things would you like to see this year? Tell us in the comments below.