Cyber Monday is here for Injustice Mobile!
We hope you have been a good saver and prepared for the Injustice Mobile Cyber Monday. It has finally arrived and for this one day only, Netherrealm Studios and Warner Bros are giving 25% off of all Booster Packs. Only today you will also be able to purchase all packs ever released: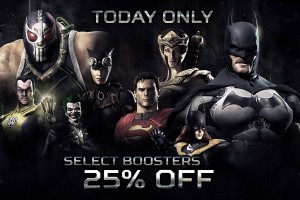 The complete list includes:
Red Son Pack
Man of Steel Pack
Femme Fatale Pack
Most Wanted Pack
Tag Team Pack
Bleed Out Pack
Metropolis Pack
All Bronze, Silver, Gold and Gear Packs
Have fun shopping!