Dawn Of Justice Superman Challenge For Injustice Mobile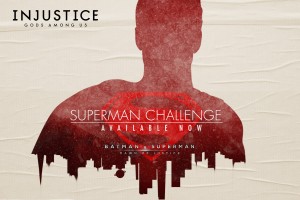 The very first Injustice Mobile single player challenge from the Dawn of Justice update returns. For the next six days you will be able to add the gold Dawn of Justice Superman card to your collection:
Dawn of Justice Superman has the unique ability to disable gear affects when performing a special move. This will make him one of the characters that you will be seeing online really often to counter the effects of the recently released gear sets.
Dawn of Justice Superman is based on the Henry Cavill's character from the Batman V Superman: Dawn Of Justice movie which was released on March 24, 2016.
To beat this challenge you must have Zod, Lex Luthor and Doomsday in your collection. Lex Luthor and Doomsday shouldn't be a problem, as there are Bronze/Silver versions of the two characters. Zod might be a lot more trickier, as there is no booster pack that currently offers him. So if you don't already own the character and if no booster pack appears in the next days, you might not be able to complete the challenge.
The challenge has so far been available on the following dates:
March 15th, 2018 – March 22nd, 2018
July 1st, 2016 – July 8th, 2016
March 10th, 2016 – March 24th, 2016