Sub-Zero Challenge For Injustice 2 Mobile
The next Single Player Injustice 2 Mobile challenge is here. You get the chance to fight for gold Sub-Zero character shards and gear.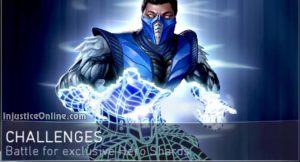 Character Summary
Grandmaster of the Lin Kuei, Sub-Zero can create a clone of his opponent to fight for him in battle. Also, using an ice ball, he may freeze his opponent, stopping the victim's power generation and allowing for a follow=up attack from himself or one of his teammates.
Sub-Zero is a three star gold arcane class character and has the following basic stats:
Threat: 1796
Health: 858
Damage: 172
Passive: Klone Kombatant
Description: Ability 3 spawns an ice clone of the current opponent with 10% Health, 50% Attack, no supermove, and no passive.
To unlock the character you will have to collect 160 shards.
Challenge Description
Requirements
To beat this challenge you must have at one, two or three metahuman class heroes on your team, depending on the level you are playing. This shouldn't be a problem even for newer players, as there are several silver metahuman characters: Scarecrow, The Flash and Swamp Thing. This requirement might however limit the thread level of the team you will be putting together for this challenge.
Opponents
Shaman Gorilla
Fiery Inmate
Sub-Zero
Team Thread
Level 1: 7 947
Level 2: 32 451
Level 3: 72 182
Modifiers
Tips
Sub-Zero can stop power generation by freezing his opponents. He also has the ability to summon an Ice Klone.
Strategies
Don't waste your super meter on the weaker characters. Build up to a super and attack Sub-Zero with it.
Schedule
The challenge has so far been available on the following dates:
February 20th, 2018 – February 23rd, 2018
January 23rd, 2018 – January 26th, 2018
December 19th, 2017 – December 22nd, 2017
December 1st, 2017 – December 4th, 2017
August 25th, 2017 – August 28th, 2017
July 28th, 2017 – July 31st, 2017
July 18th, 2017 – July 21st, 2017