Discover What The Injustice Mobile March 25th Gift Is
Today is March 25th, 2016, the official release date of Batman V Superman: Dawn Of Justice. And for this date, Netherrealm Studios and Warner Bros have promised a special gift for all players of the Injustice Mobile game.If you are one of the people who hasn't received the gift yet and are wondering what it is, we have it here for you: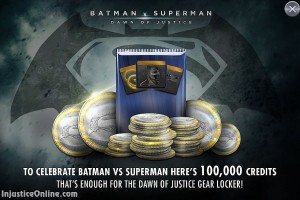 Yep, it is 100,000 credits. This should be enough for the Dawn Of Justice Gear Locker. Most of the players would most probably be disappointed, as we were all expecting something a bit more special, may be a character of a part of the gear set itself.
Did you receive the gift yet? What were you expecting? Let us know in the comments.