Find Out Who Is The Man Behind The Curtain In Injustice Year 4
Darkseid's Challenge for Injustice Mobile might be over but his story line in the Injustice Year 4 comics is just getting started. Yep, you read it correctly, Darkseid is coming to the Injustice: Gods Among Us comics in Digital Chapter 21 which was released yesterday: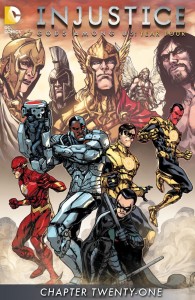 While Superman is away from Earth, world leaders debate how to deal with the tyranny of the Gods of Olympus.
Darkseid is not just showing up for a short cameo, he has actually been the one pulling Ares' strings behind the curtain the whole year. Ready to do whatever it requires to avenge the death of his son at the hands of Superman in Injustice Year 1, he is more dangerous than ever.
In this chapter Harley Quinn, Shazam and Hippolyta manage to escape their prison and the Amazon queen is finally reunited with her daughter.
Cat Grant cameos and discusses how the government plans to handle the Gods of Olympus situation now that Superman has been banished from the planet.