Last Chance To Get The Injustice Mobile Bleed Out Pack
The Injustice Mobile Bleed Out Booster Pack is ending in only a few hours, so if you are planning on getting your hands on it, you should hurry up.
The pack itself contains three gold characters, including Batman Returns Catwoman, Mortal Kombat Scorpion and Aquaman: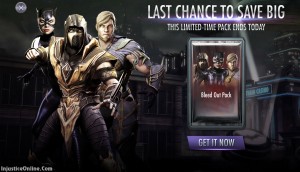 All of these characters have a bleed out special move that will keep your enemies bleeding even after the move has been performed. The price of the pack is 415 000 power credits.