Godfall Superman Challenge For Injustice Mobile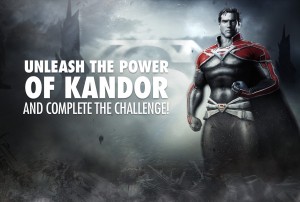 Godfall Superman is one of the very few Injustice Mobile single player challenges to reappear in the game after the initial appearance of the character. The challenge will give you access to the Godfall Superman gold card:
Godfall Superman originates from a 2000s story arc in the comics featuring The Man of Steel in adventures through the bottle city of Kandor.
The story revolved around an amnesiac Superman living with his wife, Lyla, in Kandor. The story updated Kandor and gave Superman a variant costume, as well as introducing a new Kryptonian villain, Preus.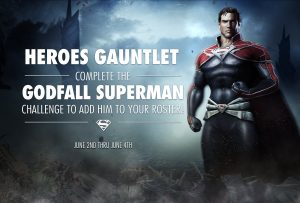 Gadfall Superman possesses incredible stats and one of Superman's deadliest special moves. If you don't have him yet hurry up, now is your chance. Take a look at his stats:
Attack: 1000
Health: 1250
Passive: Power of Kandor
Description: On successful BLOCK, Superman reflects all Basic Damage.
To beat this challenge you must have Batman, Doomsday and Lex Luthor on your team. There are Bronze/Silver versions of Lex and Doomsday and Batman is one of the most common gold characters so this challenge shouldn't be a problem even for newer Injustice Mobile players.
So far the challenge has been available on the following dates:
January 5th, 2017 – January 19th, 2017
June 2nd, 2016 – June 4th, 2016
October 8th, 2015 – October 22nd, 2015