Harley Quinn VS. Shazam And More In Injustice Year 5 Chapter 21/22
One of the most enjoyable and fun to read about relationships in the Injustice: Gods Among Us comics is that of Harley Quinn and Shazam. And their relationship is one of the major plots of Injustice Year 5 chapter 21/22.
Careful for spoilers if you haven't read the two chapters yet.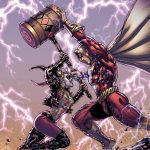 With the series approaching the end of its fifth and currently final year, Brian Buccellato has the though job of positioning the characters exactly where the game finds them at the beginning of the 6th year.
With this said, we find Harley Quinn in much deeper commitment to Batman and his cause, giving herself a fun therapy session realizing that she can't understand why so many heroes are standing next to Superman after everything he has done. The consequence, she goes after Shazam in an attempt to convince him to change his allegiance. The conflict between the two is what will position Billy exactly where we find him in the game, uncertain and unconvinced of what Superman's Regime is trying to accomplish.
Another major part in the two chapters is the culmination of the Bizarro story. And here is where a story that had such a huge build up until now somehow failed to deliver. Both, the danger for Lex due to his involvement in Bizarro's creation and the imminent conflict between Superman and Bizarro felt a bit rushed.
In spite of this, chapter 22 ends with an amazing scene between Superman and Alfred. The cliffhanger from the final panel will make you want to read the next, still unreleased chapter immediately.
Did you enjoy the two chapters, tell us in the comments below.