Injustice 2 Best Of E3 Awards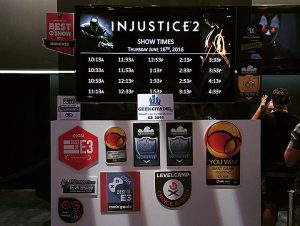 The competition at this years Electronic Entertainment Expo was vicious. But even with games like God Of War, Barman Arkham VR, Spider-Man, Horizon: Zero Down, Resident Evil 7, Legend of Zelda and Days Gone fighting for the love of the press and fans, Injustice 2 manages to get several Best of E3 2016 nominations and awards back home.
Here are some of the Best of E3 2016 nominations
IGN
GameInformer
CGM
UCL
Gamerspack
Unreal E3 by NVIDIA
And now here are some of the Best of E3 2016 wins for Injustice 2
Our nominees for E3 2016's Best Fighting Game were…

Absolver
Injustice 2
Tekken 7

WINNER – Injustice 2
By Lucas Sullivan, Senior Editor
I was stoked over plenty of games shown at E3 2016, but for whatever reason, the Injustice 2 demo (which I watched from home) felt the most tangible to me. NetherRealm Studios has mastered the art of telling an engaging story in a fighting game; for proof, just take a look at how Mortal Kombat X embarrasses Street Fighter 5 in the solo campaign department. And that dedication to an earnest narrative through-line – right down to the pre-fight exchanges that perfectly play into each character's personality – is what's getting me so pumped to play Injustice 2. It's gotten to the point where I've started rewatching old Justice League episodes just to get by – which is a nice reminder that the Injustice series recasts many of the same voice actors from the show, ensuring maximum authenticity and nostalgia.
Best Fighting Game: Injustice 2

Sometimes, you just want to punch and kick everyone in the face. Unfortunately, that might lead to a prison sentence. Instead, you can take on the role of your favorite superhero of villain and beat up everyone to your heart's content in Injustice 2. Building upon an existing popular game franchise, this iteration takes things to an even better level. Besides, what more do you need than an opportunity to get out all that aggression with some cool combos and impressive gameplay?

Honourable mention: Tekken 7
Tom's Guide: Best of E3 2016 Awards
Best Fighting Game: Injustice 2

How do you improve an excellent DC Comics fighting game? Add new heroes, vastly better graphics and an innovative gear system that allows you to build your own custom version of iconic characters such as Superman, Batman and Aquaman. Fresh faces, such as the big-bruising Atrocitus and the extra-nimble Supergirl, add a whole new dynamic to Injustice 2's airtight combat, while the game's super moves and stage transitions are more joyously over-the-top than ever before. I mean, who doesn't want to see Supergirl punch someone into space just to eye-beam them back to Earth?
Did you like what you saw on E3? Let us know in the comments below.