Injustice 2 Mobile Version 1.4 Released: All Details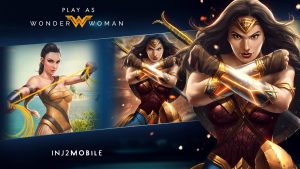 A few days ago (May 30th 2017) Netherrealm Studios released Injustice 2 Mobile version 1.4 for Android and iOS devices. This update is focused on promoting the new Wonder Woman movie, so there is a lot of Diana in the game right now. Lets take a look:
FOR THEMYSCIRA
Relive the Wonder Woman movie experience with Injustice 2!
Two new Wonder Woman cards are available based on the just released Wonder Woman movie – the Silver Tier Amazon Wonder Woman and Gold Tier Mythic Wonder Woman
Each new Wonder Woman version has a full set of Gear to earn as well!
Earn the Silver Amazon Wonder Woman Movie card by attacking and completing your daily objectives
For those who just can't wait, Mythic Wonder Woman is also available immediately in the Injustice 2 store
NEW HEROES (AND VILLAINS)
Supergirl and two versions of Poison Ivy arebe added in Update 1.4
Powered Supergirl and Entangling Poison Ivy will be available as Challenge Mode rewards
Flora Poison Ivy can be found in the Premium Chest
UPDATES, FIXES & MORE
Update 1.4 introduces a number of fixes to make the overall player experience more enjoyable!
Improvements to all supermoves
New Premium Chests introduced
Updated opponent difficulty levels in campaign mode
Support for Asian languages: Japanese, Korean and Simplified Chinese
Overall polish and bug fixes
ADDITIONAL CHANGES
Apart from the things from the official release notes, we noticed the following changes and updates:
Account leveling now possible by completing campaign battles. This change will make account leveling much more easier
New daily rewards that focus on The Flash shrads
Roster ordering has been fixed
Wonder Woman movie trailer
Do you enjoy this new update? Tell us in the comments below.