Static Challenge For Injustice Mobile
The next Single Player Injustice Mobile challenge is here. You get the chance to obtain one of the most desired and most rare gold characters, Static.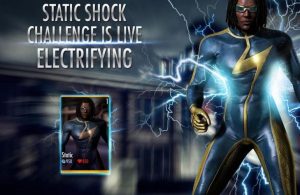 Static is not only one of the most desired and rare characters in Injustice Mobile but he is also one of the very few mobile exclusive characters, meaning he does not appear in the console version of Injustice: Gods Among Us.
Static is one of the earlier challenge fighters so he doesn't really have very impressive basic stats. On the other hand, all of his other abilities are truly devastating. This makes him a perfect fit for any team. Take a look: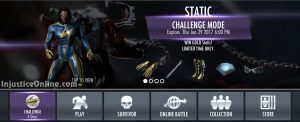 Attack: 1050
Health: 1050
Passive: Aftershock
Description: Immune to POWER DRAIN. Successfully BLOCKING Special Attacks generates POWER for Static.
To beat this challenge you must have The Flash, Green Arrow and Green Lantern on your team. There are Bronze/Silver versions of all of them so this requirement shouldn't be a problem even for newer Injustice Mobile players.
The challenge has so far been available on the following dates:
June 22nd, 2017 – June 29th, 2017
Unknown first date