Injustice 2 Shirt Teases Dr. Fate, Harley Quinn And More
There is no question that the world belongs to Injustice 2 these last few days. And when the game was announced everybody started looking into clues and hints about characters, going as far as confirming characters that are not officially confirmed. Such is the case with the official Injustice 2 T-Shirt from the following tweet:
Check out this #Injustice2 swag we'll be giving away at the #MKXProLeague Season 3 Finals! https://t.co/Wx0QMytCgP pic.twitter.com/U5EsPJ1olN

— ESL Mortal Kombat (@ESLMortalKombat) June 9, 2016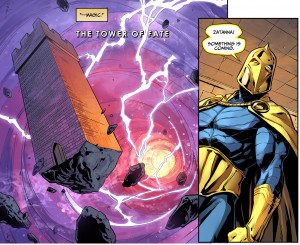 The T-Shirt displays several gear items and logos of DC characters, including Dr. Fate's helmet, Harley Quinn's mallet and what looks like Captain Cold's gun.
Giving the popularity of Harley Quinn, we can't imagine her skipping the game.
Dr Fate was one of the most requested DLC characters for Injustice: Gods Among Us. He played a major role and mysteriously disappeared in the story of the comics during year 3. So, he is a pretty safe bet as well.
Caprain Cold rose to popularity recently with his inclusion in the Flash TV series, so who knows. Despite all the information however, none of them have been officially confirmed.
So, I guess what I am trying to say is, try to not get your hopes up too much. These character will most probably appear in the game in some way or another, but if they don't and you were convinced they would, you will be disappointed. So enjoy this with a grain of salt until an official announcement is made.
Do you want these characters to be playable in Injustice 2, let us know in the comments below.