Injustice 2 "The Lines Are Redrawn" Trailer Released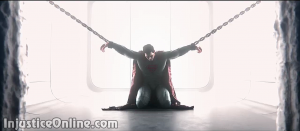 January 17th has arrived and with it literally tons of new Injustice 2 information, footage, character reveals, boss reveals, editions details, and… a brand new story trailer that packs all of this in two and a half minutes that will take your breath away. See it for yourself and then we can talk more:
For those of you captivated by the narration of the trailer, here we have the text for you:
Savior, monster, guardian, vigilante, …
The preservation of life, so often the justification for taking it.
Humans, elevating those that keep guard, until they watch, too close
and the so-called hero condoning the very act he would condemn.
Transgressions of the past, shape actions to come.
As offspring turns into adversary,
yesterday's lost leads to madness and God
becomes tyrant,
becomes outcast,
becomes dust.
As factions dissolve and fall, and lust for power enslaves all.
Such folly and futility in a grand design…
Curious how lines once clearly defined become blurred.
Perhaps it is time for them to be redrawn!
The trailer gives us a lot of new information that we will explore in detail in a few separate articles:
Poison Ivy and Bane in Injustice 2
The trailer reminds me personally of the Injustice: Gods Among Us teaser trailer released more than 4 years ago for the original Injustice game. Take a look:
Injustice 2 is coming May 16th 2017 for PlayStation 4 and XBox One.