Injustice Mobile Double Experience Bonus All Weekend
Have you wanted to level up your characters lately? Now you have the chance to do it in a flash. This weekend all Injustice Mobile players will receive a double experience bonus for all single and multiplayer matches.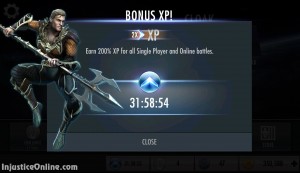 The double experience bonus appears every few months and is a great way to level up characters that have already reached level 30+. A way to make the best out of is to combine it with one of the last two star-challenges from single player mode and get from 60 000 to 80 000 experience points each fight.
So far the the double experience bonus has been available on the following dates:
July 21st, 2017 – July 24th, 2017
December 23rd 2016 – December 27th, 2016
November 24th, 2016 – November 29th, 2016
September 2nd,2016 – September 6th, 2016
July 1st, 2016 – July 4th 2016
May 28th, 2016 – May 30th 2016
December 12th, 2015 – December 14th, 2015
September 4th, 2015 – September 6th, 2015