Ancient Katana Gear Multiplayer Challenge For Injustice Mobile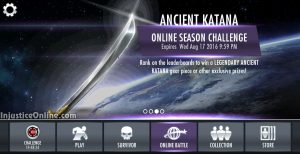 Injustice Mobile 2.11 or as we all call it the Suicide Squad update brought us not only new characters but also several new gear cards. One of them can be acquired through the Multiplayer Challenges of the game: Ancient Katana Gear.The Ancient Katana gear can be evolved to the Soultaker Sword gear. The gear possesses the following properties:
10% UNBLOCKABLE chance on basic attacks
30% LIFEDRAIN chance on Special 2
[EVOLVED] 5% DAMAGE DRAIN from defeated enemies. Stacks twice.
To obtain the gear you need to rank among the top 5% players during an multiplayer season that offers the gear card as a reward.
The challenge has been available on the following dates:
July 19th, 2017 – July 26th, 2017
June 14th, 2017 – June 21st, 2017
April 5th, 2017 – April 12th, 2017
March 1st, 2017 – March 8th, 2017
December 20th, 2016 – January 5th, 2017
November 9th, 2016 – November 16th, 2016
August 24th, 2016 – August 31st. 2016
August 10th, 2016 – August 17th. 2016