Injustice Year 1 Comics Shown At Apple's Live Event
There is no doubt that the Injustice: Gods Among Us is a rare gem in the comic books world. It's first year manged to attract countless of new comic book reader thanks to the connection of the comic book series with the game. It was however the comic book series itself and Tom Taylor's incredible writing who made them stay and support it even after almost 3 years. So it is no surprise when Apple decided to use a page of one of the earliest issues when showing what apps you can use with your new Apple TV: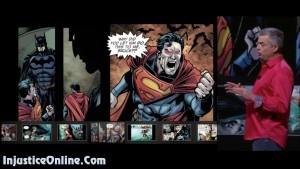 The Injustice: Gods Among Us also helped define and establish the so popular today Digital First comic book chapters.
You can watch Apple's live event here (for as long as the video remains online):
https://youtube.com/watch?v=CmycDv3qvpw
The Injustice: Gods Among Us comic book page comes at 2:06:22.
Thanks to Tom Taylor for the heads up on this story.