Injustice Year 4 Chapter 20 Released
The 20th digital chapter of the 4th year of the Injustice: Gods Among Us comic book series has been released: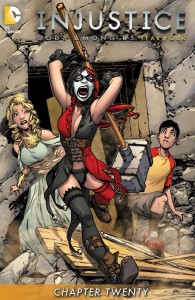 As a destructive wave reaches the amazon island, Batman, Batwoman, Batgirl and Catwoman attempt to evacuate all inhabitants. Will their efforts succeed or will a sacrifice be required for the greater good?
Batman receives a message from Harley Quinn, who informs him who the man behind the curtain is. But can he warn everyone before it is too late, or will it be Lois all over again. All of this happens as Zeus intervenes again and orders Superman to leave the planet as he is getting tired of the entire situation.