The award-winning, best-selling comic book series has returned with its fifth and final year. Injustice: Gods Among Us Year 5 Chapter 1 is now available: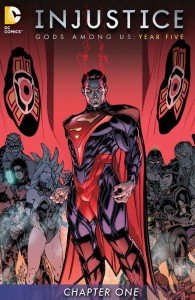 The members of the Justice League have their hands full searching and recapturing all the escapees from Injustice Year 4 Annual 1. Meanwhile Batman is forced to recruit several of the escaped villains hoping to keep his Insurgency alive after the events in Year 4.
But can Batman's new plan bring Superman to his knees or will another thread force The Man of Steel to step down from his throne.
Injustice Year 5 has a promising start and with so much yet to happen to align the story of the comics to that of the game, we are definitely in for a treat the next few months.
What do you expect from Injustice Year Five, tell us in the comments.