Superman VS Doomsday In Injustice Year 5 Chapter 2
As different members of the Justice League are locked in battle with the escapees, Batman is moving forward with his plans for the Insurgency: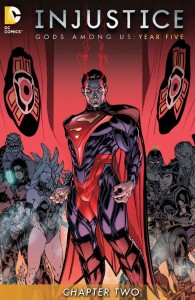 In Injustice Year 5 Chapter 2 Superman faces his most dangerous and powerful enemy, Doomsday. The Flash tries to intervene but is badly wounded by the creature. Can the Man of Steel defeat the ultimate destroyer or will an unexpected villain intervene and tip the scales in an unexpected direction?
Find out in the second chapter of Injustice Year 5, the last year of the Injustice: Gods Among Us saga.