John Stewart Green Lantern Challenge For Injustice Mobile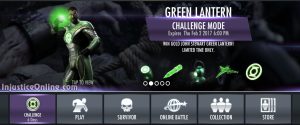 The next Single Player Injustice Mobile challenge is here. You get the chance to obtain the very rare and very valuable John Stewart Green Lantern gold characters.
John Stewart Green Lantern comes right from the console version of Injustice: Gods Among Us, where he is one of the skins for Hal Jordan Green Lantern.
In Injustice Mobile John Stewart Green Lantern is a separate character is one of the very first gold character challenges for the game. As such he does not have the raw power of later characters in terms of basic start but has a very useful passive ability that will protect his team mates surrounding them with green energy once they are left with only 20% health. This makes him a very useful ally and a dangerous foe. Take a look:
Attack: 750
Health: 950
Passive: Emergency Barrier
Description: When Green Lantern or a teammate reaches 20% Health, a barrier appears making that character invulnerable for 4 seconds. This can occur once per character, per match.
To beat this challenge you must have Nightwing and Doomsday on your team. There are Bronze/Silver versions of both of them so this condition should not be a problem even for newer Injustice Mobile players. Additionally you must also have at least 3 Regime characters on your team in order to complete step 4 of the challenge.
These are some of the Regime characters you can use at the moment:
Bronze: Catwoman, Solomon Grundy
Silver: Bane, Cyborg, Doomsday, Green Lantern, Nightwing, Sinestro, The Flash
Gold: Aquaman, Black Adam, Hawkgirl, Killer Frost, Superman, Wonder Woman
The challenge has so far been available on the following dates:
January 26nd, 2017 – February 2nd, 2017