Killer Frost Challenge For Injustice Mobile
Those of you who missed the Killer Frost challenge when it was initially available are in luck. Netherrealm Studios has decided to repeat the single player challenge for a short period of time: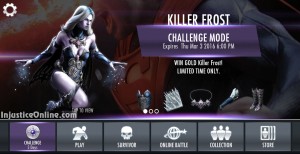 Killer Frost is one of the most interesting characters in the game due to her ability to slow down her opponents after performing her Special 1 move, causing a lot of damage to them in result of that.
The challenge will be available until March 3rd, 2016.