Poison Ivy and Bane in Injustice 2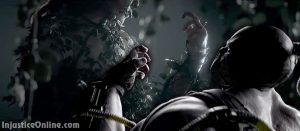 Netherrealm Studios and Warner Bros managed to get the attention of the fans with the Lines Are Redrawn Trailer, released earlier. Next to the confirmation of Braniac, Green Lantern and Robin as playable characters in Injustice 2 however, they also hinted at several other characters, who currently have an unknown status.
Based on their appearance in the trailer, Bane and Poison Ivy will definitely be in the game and if you ask about our opinion, they will most probably be playable. The only thing currently missing is an official confirmation. Until such arrives just consider them as in the game in some form. Here we have two screen captures from the trailer for us all to drool on 🙂
In case you haven't seen the trailer yet, here is your chance:
Do you want Bane and Ivy to be playable in Injustice 2, tell us in the comments below. What about the Joker? Do you want to see him back as well?
For all the latest Injustice 2 news and updates stay close to InjusticeOnline.Com