Martian Manhunter Is Back – New Injustice Mobile Challenge
The next single player challenge for Injustice Mobile is here and it will give you a chance to get yourself on a gold Martian Manhunter card: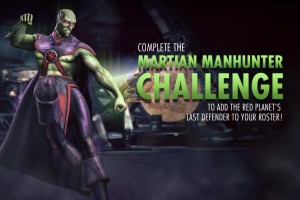 John Jones appears in the console version of Injustice: Gods Among Us as one of the two DLC characters who were released outside of the season pack.
In the Injustice: Gods Among Us comics, Martian Manhunter is burned alive by Superman after taking Batman's side and while he was attacking Wonder Woman.
To beat this challenge you must have Bane, Sinstro and Lex Luthor on your team. There are Bronze/Silver versions of all of them so this challenge shouldn't be a problem even for newer Injustice Mobile players.
So far the challenge has been available on the following dates:
January 19th, 2017 – January 26th, 2017
September 23rd, 2015 – October 7th, 2015