Rebirth Green Arrow Challenge For Injustice Mobile
The next Single Player Injustice Mobile challenge is here. You get the chance to obtain Rebirth Green Arrow gold characters: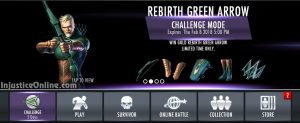 Character Summary
Rebirth Green Arrow is inspired by the DC Rebirth comic book series. The character was added in Injustice Mobile version 2.13. He has some good stats and an interesting passive ability that can make him a good addition to your team. Take a look:
Attack: 1300
Health: 1350
Passive: Trick Arrows
Description: Green Arrow fires a random Trick Arrow that triggers on impact when he Tags-In. When Green Arrow switches for another Rebirth character, he fires a random Trap Arrow that's triggered by certain enemy actions. If not triggered, Trap Arrow disappears after 5 seconds.
Challenge Description
Requirements
To beat this challenge you must have Cyborg, Nightwing and Killer Frost on your team. There are Bronze/Silver versions of all these characters with the exception of Killer Frost.
Schedule
The challenge has so far been available on the following dates:
September 2nd, 2021 – September 9th, 2021
February 2nd, 2018 – February 7th, 2018