Rebirth Wally West Multiplayer Challenge For Injustice Mobile
The first Multiplayer challenge from Injustice Mobile version 2.13 or as it is known the Rebirth update is here. In the current multiplayer season you have the chance to compete for the brand new Rebirth Wally West gold character:
Rebirth Wally West is a variation of The Flash character and inspired by the currently ongoing DC Rebirth comic book series:
Rebirth Wally West has some impressive basic stats and a dangerous passive ability. These combined with his speed make him a very powerful ally and a dangerous foe. Take a look: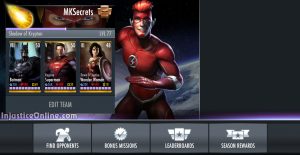 Attack: 1350
Health: 1300
Passive: Speed Force Merge
Description: Chance to dodge any Special Attack and then counterattack for large damage. If teamed up with Rebirth characters OR Flash characters the chance goes up. Rebirth characters also receive a power generation boost.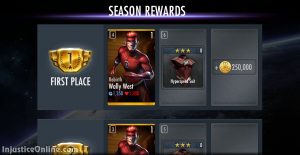 To obtain Rebirth Wally West gold character you will have to rank among the top 3% players during a multiplayer season in which he is the reward. This is the third character after Metahuman Flash and Reverse Flash to have this more difficult condition.
As each other multi player challenge you can expect Rebirth Wally West to show up every once in while so if you missed it once you will definitely get another chance.
So far the challenge has been available on the following dates:
December 14th, 2016 – December 21st, 2016