Red Son Green Lantern Challenge For Injustice Mobile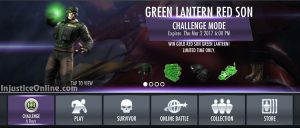 The next Single Player Injustice Mobile challenge is here. This time you will have the chance to obtain the Red Son Green Lantern gold card.
Red Son Green Lantern is inspired by the Red Son series of comics published by DC comics. The character appeared as one of the DLC costumes for Green Lantern in the console version of Injustice: Gods Among Us.
In Injustice Mobile Red Son Green Lantern is one of the earlier gold character challenges for the game but is also the last Red Son character to be added. He is best used in combination with other Red Son characters as his passive ability will only give them the special green energy armor that reduces the damage they take from special moves. Take a look at his stats:
Attack: 850
Health: 1150
Passive: Red Son Energy Armor
Description: Red Son characters on Green Lantern's team take 20% LESS Special Damage, and are IMMUNE to STUN and CRIT.
To beat this challenge you must have Lex Luthor, Joker and Catwoman on your team. There are Bronze/Silver versions of all of them so this requirement should not be a problem even for newer Injustice Mobile players.
The challenge has so far been available on the following dates:
February 23rd, 2017 – March 2nd, 2017