Luchador Bane Challenge For Injustice Mobile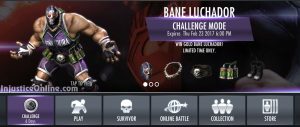 The next Single Player Injustice Mobile challenge is here. This time you will have the chance to obtain Luchador Bane gold card.
Luchador Bane is one of the DLC costumes for Bane in the console version of Injustice: Gods Among Us.
In Injustice Mobile Luchador Bane is one of the earlier gold character challenges for the game. He has a very powerful attack causing tons of damage but a pretty low health for his class. His attack however combined with his other skills makes him a great fit for many teams. Take a look:
Attack: 1100
Health: 800
Passive: Feel the Pain
Description: Upon Tag-In, Bane has a Chance to STUN his opponent and receives a 25% Boost to All Damage for 4 seconds.
To beat this challenge you must have Wonder Woman, Nightwing and Flash on your team. There are Bronze/Silver versions of all of them so this requirement should not be a problem even for newer Injustice Mobile players.
The challenge has so far been available on the following dates:
February 16th, 2017 – February 23rd, 2017