Superman VS Darkseid In Injustice Year 4 Chapter 22
Chapter 22 of the Injustice: Gods Among Us Year 4 comics has arrived. As Superman faces off against Darkseid, Apokolips' core becomes unstable due to the amount of released energy during the battle: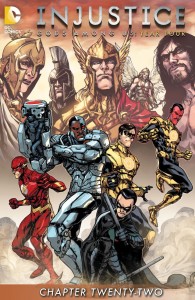 To handle the situation the New Gods send Orion to stop the fight between Superman and Darkseid.
Meanwhile on Earth with Zeus taking over both the JLA and the remaining Insurgency members are evaluating their remaining options, not knowing that the governments are planning an attack on the gods of Olympus. Upping the stakes involving yet another fraction in the face of the new gods is a smart move so close to the end of year 4 and we can't wait and see how it all turns out.