Teen Titan Raven Challenge For Injustice Mobile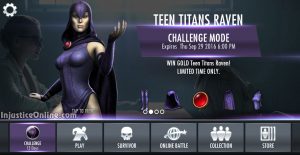 A next Single Player Injustice Mobile challenge has arrived and it gives you the chance to obtain Teen Titan Raven gold character.
The character was added to the game in Injustice Mobile version 2.10 in June 2016 but the challenge was pushed back a few months due to the Injustice 2 and Suicide Squad challenges which had to be aligned to the announcement of Injustice 2 and the release of the Suicide Squad movie.
Basic stats for Teen Titan Raven:
Attack: 1400
Health: 1200
Passive: Demonic Embrace
Description: Special attacks have a chance to drain 25% Health and power. Raven receives all health and power that has been drained.
To beat this challenge you must have Killer Frost, Scorpion and Hawkgirl on your team. All three of them are gold characters which might cause a problem for newer Injustice Mobile players. At the moment only Hawkgirl is available directly in the store through the Tag Team Pack.
The challenge has so far been available on the following dates:
September 9th, 2021 – September 16th, 2021
March 23rd, 2017 – April 13th, 2017
September 15th, 2016 – September 29th, 2016