The Origins of the God of War Revealed in Injustice Year 4 Chapter 16
Chapter 16 of the Injustice: Gods Among Us Year 4 has been released. Among other things it tells the origins of the God of War Ares and his motives to stand against Zeus, his own father: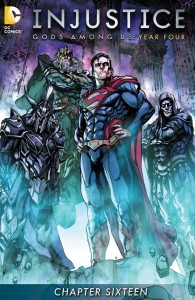 Learn the origins of the God of War while, in the present, he teases Superman with the road to ultimate victory-"In order to fight Gods…you need GODS."
Ares is taking on the role of the puppet master in Injustice Year 4 actions that might have extreme consequences for him. How will the conflict between The Regime and the Gods of Olympus end, how will Wonder Woman cope with her assumed role, find out on the pages of Injustice Year 4.
Even after so many issues, the series is still on the top of the charts as one of the best selling comic books.