5-U-93-R Pill Gear Multiplayer Challenge For Injustice Mobile
The legendary 5-U-93-R Pill Gear is the next multiplayer challenge for Injustice Mobile. This legendary gear can be evolved to the Overpowered 5-U-93-R gear: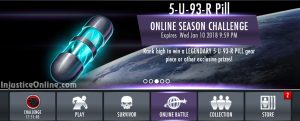 The 5-U-93-R Pill is a Kryptonian Nanotech Drug consumed by various characters during the story mode of Injustice: Gods Among Us. It gives a person a Kryptonian like abilities including super strength and durability.
Effects
30-50% DAMAGE BOOST to basic attacks
10-50% CRIT chance on basic attacks
50-90% LIFEDRAIN chance on combo ender
[EVOLVED] 100% chance to Drain 5-15% Power on Combo Ender
To obtain the gear you need to rank among the top 5% players during a multiplayer season that offers the gear card as a reward.
The challenge has been available on the following dates:
January 3rd, 2018 – January 10th, 2018