New 52 Superman Challenge For Injustice Mobile
The next Single Player Injustice Mobile challenge is here. You get the chance to obtain New 52 Superman gold characters. New 52 Superman was added in Injustice mobile in version 2.17: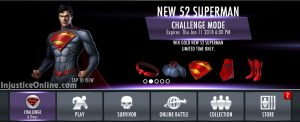 Character Summary
New 52 Superman is based on the version of the character from the New 52 line of DC comics. He has amazin stats and a passive ability that allows him to get stronger as the match progresses and can be additionally made stronger with Justice League characters on the team. Take a look:
Attack: 1300
Health: 1500
Passive: Rage of Krypton
Description: Superman receives +100% basic damage buff for accumulating power. Stacks up to 3 times and can't be rinsed. Superman takes 15% less Damage with every Justice League teammate: Batman, The Flash, Green Lantern, Aquaman, Martian Manhunter, Cyborg, Wonder Woman.
Challenge Description
Requirements
To beat this challenge you must have Flash, Green Lantern and Wonder Woman on your team. There are Bronze/Silver versions of all these characters so this challenge shouldn't be a problem even for newer Injustice Mobile players.
Schedule
The challenge has so far been available on the following dates:
January 4th, 2018 – January 11th, 2018
November 23rd, 2017 – November 30th, 2017