Earth 2 Hawkgirl Challenge For Injustice Mobile
The next Single Player Injustice Mobile challenge is here. You get the chance to obtain Earth 2 Hawkgirl gold characters: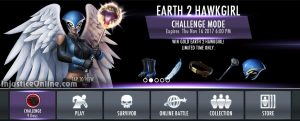 Earth 2 Hawkgirl has great basic stats and a great passive ability. She is especially useful when combined with other Earth 2 characters like Earth 2 The Flash and Earth 2 Solomon Grundy. Take a look:
Attack: 1400
Health: 1300
Passive: Concussive Blow
Description: Each SP and Combo Ender has a 30% chance to Stun an opponent. Hawkgirl deals +100% more damage against stunned opponents, and additional +25% for each Earth 2 teammate.
To beat this challenge you must have Flash, Solomon Grundy and Green Lantern on your team. There are Bronze/Silver versions of all these characters so this challenge shouldn't be a problem even for newer Injustice Mobile players.
The challenge has so far been available on the following dates:
December 28th, 2017 – January 4th, 2018
November 10th, 2017 – November 16th, 2017